Specialities
Psychosexual therapy, Couples counselling, Singles coaching, General Counselling
A few words about myself
Joanna Benfield, MPhil, Dip Couns, MBACP Registered
MODE OF WORKING DURING CORONAVIRUS OUTBREAK
Online therapy only until further notice. Please visit my website for contact information.
I offer a counselling service to men, women and couples looking to improve their relationships and their sex lives. I provide a safe, open and shame-free environment in which all sexual and relationship issues can be discussed. My main areas of work include: low desire, erectile dysfunction, premature ejaculation, painful intercourse, inability to reach orgasm and sex addiction. I also work with couples to resolve communication difficulties, address affairs and reduce conflict.
I help clients to:
Improve personal relationships
Enhance compatibility
Increase confidence
Resolve sexual problems
Address sex addiction
Address differences in levels of sexual desire
Explore sexual identities
Come to terms with fertility difficulties
Deal with changes associated with pregnancy and birth
Work through the aftermath of affairs
Take decisions about the future of relationships
I also work as a general counsellor, helping clients to work with issues such as depression, anxiety, obsessive thinking and trauma.
I have a Diploma in Therapeutic Counselling, a Diploma in Psychosexual and Relationship Counselling (with distinction), as well as a Post-graduate Certificate in Psychological Coaching. I am also trained in person-centred counselling, cognitive behavioural therapy and brief solution-focused therapy.
As a Registered Member of the British Association of Counselling and Psychotherapy (BACP), a General Member of the College of Sexual and Relationship Therapists (COSRT) and a member of the British Infertility Counselling Association (BICA), I abide by strict codes of ethics. This means that all information shared by the client during the counselling process is strictly confidential (within the limits of the law).
I am often approached by the media for advice on sex and relationship issues and have been featured in Men's Health, Women's Health, Top Sante, Glamour, Look and Woman magazines, as well as BBC Radio Five Live's 'Men's Hour'.
My first book, Three in a Bed: Conversations with a Sex Therapist, was published by Harper Collins in January 2016.
I am Editor of the Routledge International Handbook of Sexual Addiction, published by Taylor and Francis in September 2017.
I am also Editor of the BACP Healthcare Counselling and Psychotherapy Journal.
I was delighted to win the 'Psychosexual Therapist of the Year (UK)' award in the prestigious GHP Women in Health Awards 2017.
Link to: 'Three in a Bed: Conversations with a Sex Therapist'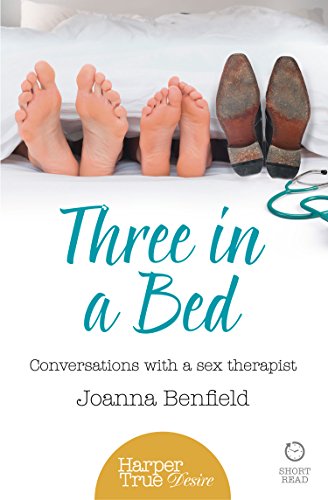 I also offer Couples/Relationship Counselling. When couples want to improve their relationships, I work together with them to identify joint long-term relationship goals and any obstacles that may be preventing them from attaining them. Couples learn new communication and conflict resolution skills and discover how to improve intimacy and trust in their relationship. More information about this area of my work can be found on this page of my web site. "A great marriage is not when the 'perfect couple' comes together. It is when an imperfect couple learns to enjoy their differences." - Dave Meurer
For more information about my work, please see: www.londonsextherapist.com
Or view this introductory video: https://www.youtube.com/watch?v=WxnCevSufg0
Contact:
Tel: 0208-133-4382
Mobile: 07752-700981
E-Mail: joannabenfield@outlook.com