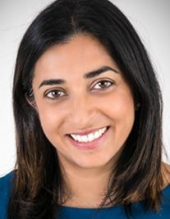 Specialities
Clinical Psychologist, Cognitive Behavioural Psychotherapist. Specialisms: children, young people & families; Anxiety Disorders, Eating Disorders; ASD & ADHD. Click image for full profile.
A few words about myself
Dr Anila George, BSc (Hons), DClinPsych, PGDipCBT. Clinical Psychologist, BABCP Accredited CBT Therapist.
I am a Clinical Psychologist and Cognitive Behavioural Psychotherapist with over 18 years experience working in the NHS with children, young people and their families. I have Chartered Status with the British Psychological Society and am registered with the Health Care Professionals Council. I have a Postgraduate Diploma in Cognitive Therapy and am an accredited Cognitive Behavioural Therapist.
Having worked in a busy Specialist Tier 3 CAMHs service in South West London, I have advanced assessment, formulation and treatment skills . As part of this role I also provided psychological assessment, treatment and advice for Neurodevelopmental disorders such as Autistic Spectrum Disorders (ASD) and Attention Deficit Hyperactivity Disorder (ADHD).
For the past four years I have specialised in Eating Disorders in Young People with my most recent role being the Team Leader and Lead Therapist of a Community Eating Disorders Team for Children and Young people for the CNWL NHS Trust.
I am highly experienced in the assessment and treatment of a wide range of emotional, behavioural and psychological difficulties affecting children including:
Anxiety (Social Anxiety, Panic, Health Anxiety, Phobias and Worry)
Body Image Difficulties
Eating Disorders (Anorexia Nervosa, Bulimia Nervosa and Binge Eating Disorder)
Low Mood & Depression
Low Self Esteem and Confidence
Managing Autistic Spectrum Disorder (ASD) and Attention Deficit Hyperactivity Disorder (ADHD)
Managing Emotions
Obsessive Compulsive Disorder (OCD)
Parenting Support
Perfectionism
My treatment approach is predominantly Cognitive Behaviour Therapy, but I am flexible in the use of other evidence based treatments and will tailor make the treatment plan to suit the particular needs of the child, young person or family. I am also able to advise parents on parenting in the context of children and adolescents with behaviour problems.
Alongside private practice, I work as an Honorary Lecturer at UCL and the Anna Freud Centre on the MSc Developmental Psychology and Clinical Practice as the Module Lead for Assessment and Planning Clinical interventions.
I am a trained CYP IAPT CBT Supervisor and have a wealth of experience in offering clinical supervision and training to a variety of health professionals. I have also offered consultation and teaching to several schools and contributed to their PSHE curriculum.
I am registered with all the major health insurance companies and currently offer private consultations at Asana Health, Kingston, within the South West London area.
Contact Details:
For a free of charge, confidential discussion about your circumstances and your requirements, please contact me directly on...
Tel: 07970 680190
E-mail: dranila.george@gmail.com
Website: www.dranilageorge.co.uk